Rental Shows
If you are interested in renting the theatre, please fill out our online form. You can also learn more about the Horizon Stage facility, and how the process works for renting out Horizon Stage.
Upcoming 2023/2024 shows
TWILIGHT TIME celebrates the soulful music of the world-renowned legendary group The Platters. TWILIGHT TIME will take you back to the glory of the 50's Music capturing the unique vocal style and the delicately balanced harmonies of The Platters. They will be performing The Platters greatest hits of all times like 'Only You', 'Twilight Time', 'Great Pretender', 'Smoke Gets In Your Eyes', Harbour Lights.
We will also bring back to you the biggest hits of the Doo Wop Music era like 'Earth Angel' 'Duke of Earl', 'Will You Still Love Me Tomorrow', 'Be My Baby', 'In the Still of the Night', 'Run Around Sue' and so, so many more! These songs will get you seat dancing and singing along even if you weren't born yet when they became hits!
One incredible feature of TWILIGHT TIME is the leadership of Geris Guanzon as the Music Director and Keyboardist. Geris performed and toured both with the Buck Ram Platters featuring Monroe Powell based in Las Vegas, and also with Martha Robi's Platters in Los Angeles from 1995-2005.
Tickets: $55
Start time: 7:30 pm.
Location: Horizon Stage Performing Arts Centre
Buy tickets
Presented by Spruce Grove Composite High School
Marlin, an anxious and over-protective clownfish, lives in the Great Barrier Reef with his kid Nemo, who longs to explore the world beyond their anemone home. But when Nemo is captured and taken to Sydney, Marlin faces his fears and sets off on an epic adventure across the ocean. With the help of lovable characters such as optimistic Dory, laid-back sea turtle Crush, and the supportive Tank Gang, Marlin and Nemo both overcome challenges on their journey to find each other and themselves.
Featuring memorable songs such as "Just Keep Swimming," "Fish Are Friends Not Food," and "Go With the Flow," Finding Nemo JR. brings a vibrant underwater world to life on stage in a story full of family, friendship, and adventure.
Tickets: $22
Start time: 7:00 pm.
Location: Horizon Stage Performing Arts Centre
Buy tickets
You will LOVE A Louisiana Hayride Christmas!
Get in the Christmas spirit with the incredibly talented cast of the Louisiana Hayride Show. After 13 years of successful shows across Western Canada, the cast and crew of the Louisiana Hayride Show are bringing their very special Christmas production to you!
On stage to entertain you will be Elvis Presley, Patsy Cline, Roy Orbison, Crystal Gayle, Buddy Holly, Shania Twain and more! They'll be singing their big hits as well as their favorite Christmas songs, such as Blue Christmas, Let It Snow, Pretty Paper, Have Yourself A Merry Little Christmas and White Christmas.
In addition to enjoying your favorite 'characters' from the Louisiana Hayride Show and a few of the show's most popular songs like I Walk the Line, Crazy, Hound Dog, Sixteen Tons, That'll Be the Day and Pretty Woman, in this special Christmas edition you'll be treated to the incredible vocals of the Louisiana Hayride cast as they sing as themselves!
Andrea Anderson will bring tears to your eyes with her incredible versions of Oh Holy Night and How Great Thou Art. William Brookfield is back for this Christmas show and he and Gil Risling do a wonderful rendition of Away In A Manger and Gil's vocals and William's instrumentation on Hark the Herald Angels will leave you breathless!.
Woven throughout the songs are fascinating tidbits of information (with a Christmas twist), delightfully presented by your host and creator of the show, Lori Risling. This show will take you on a magical Christmas journey, a delight from start to finish. You will Love the Songs, You will Love the Stories!!! Tell your friends and family and get your tickets now before the show sell out! All info available at www.hayrideshow.com  or email loririsling@hotmail.com. 
Tickets: $55
Start time: 7:30 pm.
Location: Horizon Stage Performing Arts Centre
Buy tickets
Past shows
JAEDYN'S TRIBUTES is proud to present
A Re-Creation of the Johnny Cash TV Show
We will celebrate the life and legacy of one of the most iconic figures in American music history. Johnny Cash was a singer, songwriter and performer who captivated audiences with his powerful voice, unforgettable lyrics and undeniable charisma. We will take you back in time to relive the magic and spirit of the legendary show that aired from 1969 to 1971. This TV show was a unique platform that showcased the best of country, rock and folk music, featuring performances by the biggest names in the industry.
This one of a kind tribute show promises to be a memorable experience as we bring together a talented group of musicians and performers to pay homage to The Man in Black and some of the biggest names in musical history; Waylon Jennings, Glen Campbell and Linda Ronstadt, just to name a few. Each of these special guests brings their own unique style and energy to the stage. Waylon Jennings, known as the "outlaw" of country music, was known for his rough, edgy sound and rebellious attitude. Linda Ronstadt was a genre-defying artist who had success in both country and rock music, with her soulful vocals and distinctive style. Glen Campbell was a versatile musician who played multiple instruments and was known for his smooth vocals and catchy pop-country hits.
This re-creation of the Johnny Cash TV show will be a chance to experience the magic of that era of music, and to celebrate the lasting impact that Johnny Cash had on the world of music. Join us for a night to remember, filled with great music and great company!
Tickets: $52.25
Start time: 7:30 pm.
Location: Horizon Stage Performing Arts Centre
Buy tickets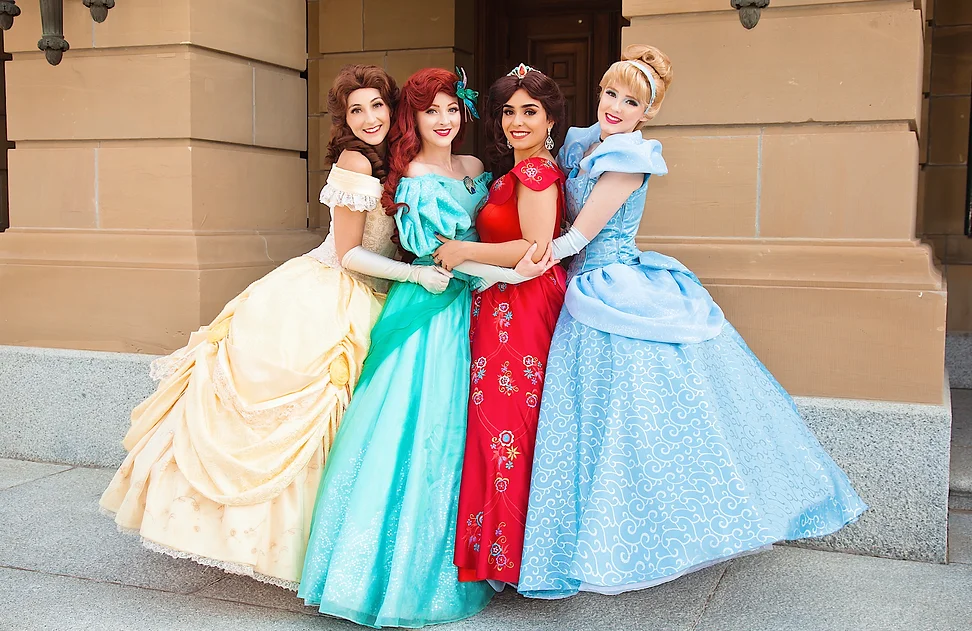 The event that started it all - The Enchanted Musical is BACK for the first time since 2018! Join us for a magical evening of Interactive Musical Performances and sing-alongs, featuring your favorite princesses! It will truly be a night you're little one will never forget! Featuring over 10 Princesses!
Show 1: 12:00 PM - 1:30 PM (Doors open at 11:30 am) - Get tickets for show 1
Show 2: 4:00 PM - 5:30 PM (Doors open at 3:30 pm) - Get tickets for show 2