DJ Warkentin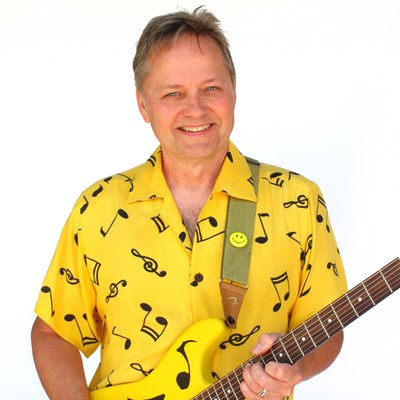 About
Born and raised in Winnipeg, Manitoba DJ first found his passion for playing music in small bands during his school years. In later years as an adult and father he found himself writing songs for his three young sons. His inspiration for many of these songs came from suggestions and requests that his children would make while he played for them before bed. Writing songs came quite easily for DJ and he soon found he had a large collection of songs he had written. It was then that he decided he would try his hand at performing these songs for other children, and so began what has become a rewarding and personally fulfilling career.
In addition to performing he has also worked as a composer for children's theatre and has scored music for stage performances of "The Big Comfy Couch", "Calliou" and many others. He has also scored music for a series of children's cartoons, most notably "Noonbory and the Super Seven". In 2010 he won a coveted industry award for "Best Song for a Commercial" which he wrote for Unilever Ponds.
He has authored and illustrated two children's books. "Harry Was A Crocodile" the story of a young crocodile with a terrible tooth ache, and "Spiders Aren't For Squishing" a collection of silly and imaginative poems.
He has been likened to other great children's performers such as Shel Silverstein, Fred Penner and The Wiggles.
Tickets
Tickets: $6 Children/Youth, $12 Adults/Seniors - Not eligible for discount, does not count toward discount package total
Recommended Age: 6 years and under